LV Switchboards
Our switchboards are engineered to client specification utilising CAD facilities ensuring that our designs offer system flexibility, reliability and ease of installation.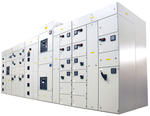 Purpose built metal work is manufactured according to specific project criteria so that switchboard size, layout, colour and access can be tailored to match site requirements.
With fully welded construction, our enclosures comply with BS EN 60 439-1 for all forms of separation and BS EN 60 529 for Ingress Protection.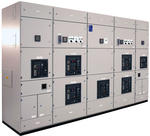 The switchboards can be designed for front or front/rear access with thermal imaging facilities. Top, bottom and side entry of cables can easily be accommodated and provision can also be made for large cables and multiple conductors.
Add on or 'integral to switchboard' solutions are also available for supply authority metering CT chambers, power factor correction, surge suppression, harmonic filtration and voltage optimisation units.